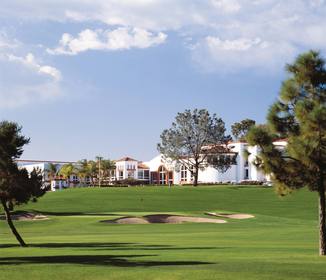 La Costa
THE RESORT
Originally a haven for celebrities and athletes looking for a respite from Hollywood and Las Vegas, La Costa Resort and Spa continues to be the pinnacle of activity, offering a taste of the California Lifestyle to all guests with golf, tennis, spa, pools and activities for all ages.La Costa's proximity to San Diego, just 30 miles north, and Los Angeles, 90 miles south, make it an easily accessible destination.Located in Carlsbad, California just three miles from the ocean, and amid the rolling foothills, La Costa Resort and spa is Southern California's largest golf resort.
Recently renovated and expanded, La Costa Resort now spans 400 acres with 610 guest rooms.The buildings pay homage to the California Mission Style with white washed walls, terra cotta tiled roofs and interiors of darks woods and rich fabrics.With a Mediterranean village atmosphere, the central heart of the resort houses the clubhouse, shops and restaurants.Spa, pools and other amenities can be found in the immediate surrounding areas.The resort is connected by beautifully landscaped walkways and fountains.Benches, seats and hammocks can be found throughout the resort for guests who want to take a moment in the surrounding peace and beauty.
Luxury Villas, added during the renovation, are available in one-two-or-three bedroom suites for purchase or rent.The Villas are fully equipped with a state-of-the-art kitchen with a seating area for up to six, all appliances and can be pre-stocked with specific groceries and amenities upon request.Room service and charging privileges also apply for guests.Larger than a standard room or suite, Villas also have an oversized marble bath and washer and dryer.Fire places create a more homelike atmosphere in the bedrooms and parlors, as do the furnished private patios offering additional outdoor space to each room.
La Costa Resort is more family friendly than ever, with Kidtopia Club for kids and Vibz teen room.Offering daily camp sessions and child care, it's easier than ever for the golfer or spa-goer to fit in family time and a treat for themselves.Splash Landing water complex offers a poolside café, slides, interactive water area and baby pool.The new Garden Pool area and café offer a more adult atmosphere. Seven pools and numerous Jacuzzis are found throughout the resort, so finding alone time is never difficult.
Membership
While guests enjoy the many amenities that La Costa Resort has to offer, local residents can enjoy them by becoming a member.La Costa Resort has many options to become a member, offering varying access to the golf courses and practice facility, tennis courts and daily drills, fitness facility and daily classes, Kidtopia and child care and pools.Membership at La Costa offers privileges including programming and events exclusive to members, discounts on dining, spa and retail, and rooms.Classifications now include a golf membership, tennis and fitness memberships with a refundable deposit or one time initiation fee.
Golf
La Costa Resort is probably best known for its 30 year history of tournament golf play, most recently the 2006 Accenture World Match Play.Every legendary player has had their turn at La Costa for one tournament or another, including Arnold Palmer, Jack Nicklaus, Lee Trevino, Tom Lehman and Tiger Woods, who won the Accenture tournament 3 times.
Designed by Dick Wilson, the La Costa courses offer a traditional design from the tees to the greens.Both North and South courses feature lush fairways, flawless greens and plenty of challenges with large, high-lipped bunkers on many holes, expanses of water and sneaky streams with fast bent grass greens.North Course is 7,094 yards, par 72, with a slope of 141, while South Course is 7,077 yards, par 72, with a slope of 140.
The resort originally opened with one course, and through the years a second was added.Players are encouraged to read the large stone monuments that grace the Legends Trail, the original 18 holes.Many include information from matches, including 16 North, the famed water feature that Tiger Woods landed two inches from the pin to win the Mercedes tournament in 1997.When rain forced Woods and Tom Lehman to return Sunday morning to break the tie, play started on the 189-yard hole near the clubhouse.Woods hit first, virtually sealing the competition immediately.Woods tapped in for birdie and the playoff ended with just one swing.
With two courses, La Costa can offer double opportunity for guests and members to play.One course is designated as the member course each day.A new $1.5 million practice area is large enough that guests and members have separate sections.All are invited to take advantage of the expertise of the pros at the La Costa Golf Academy.Specializing in custom programs for all levels, they can offer assistance for a session, day or ongoing program.La Costa Resort is also home to the Roger Fredericks, noted golf instructor and flexibility specialist.The golf pro shop offers club rentals as well as carrying the latest in apparel and gear.